Spiritual Salsa Series
Date: 10/05/2023 Time: 07:30 PM to 08:30 PM

10/05/2023 07:30 PM to 08:30 PM




Location: The Pretenders Studio Inc - down alley on Broadway between Sweet Fin and Jersey Mikes. 1438 9th Street #B
Santa Monica, California, United States




Description
Curious about spirituality or want to learn salsa moves in a holistic way? Join us for the first ever Spiritual Salsa Series! Thursdays 7:30
Curious what spiritual salsa entails?? 💃🏽 The RUNfully Method is movement for the mind, body, and soul. It will build your confidence, open your chakras, align you in your soul's purpose, release stuck emotions, drop you into vulnerability, guide you to deeper embody the divine masculine and feminine in a really yummy way, and overall make you feel goood. It includes meditation, guided movement, connection exercises, a weekly theme, intention setting, reiki energy, and incense (please let me know if you're sensitive to scents!)
What makes Spiritual Salsa different than regular salsa?
Each class includes a 15-20 minute unique warm-up with:
Meditation to drop into your body, guided movement for emotional release around a weekly theme like confidence or chakra alignment, playful connection exercises, and an incense sound bowl experience.
Then we have 40 minutes of salsa that is fun, playful, connected with the intention to leave you feeling confident with just a little bit of challenge. It is foundation's building.
The last 5 minutes are set aside for grounding in what you learned, intention setting for the week, and calling the energy back to yourself.
Salsa Progression:
Month 1 - August: Mastering the Basic Steps and Dance Foundations
(Spotting, turns, cross body lead, all basic salsa steps, proper resistance)
Month 2 - September: Combinations 1-4 salsa patterns depending on class speed. The class will move at the level of the group with styling and technique support for all levels.
Month 3 - October: Adding Styling & putting everything together into a song for socials or/and performance depending on group interest.
The last Thursday of every month includes a private group community dinner after the class for 15% off at Pono Burger!
There will also be monthly community gatherings to be announced!
Note growth is sometimes uncomfortable if you're not used to spiritual concepts, really being with yourself or others vulnerably, or new to salsa, but Melissa's approach is unique in that she fully holds you without judgment and guides the container until you feel fully safe to release and connect deeper.
Location details:
Pretenders Studio is located In the alley between Jersey Mike's and Sweet Fin Poke on the right. Images of alley and videos of location below. Plenty of free metered parking. Walk halfway down alley and enter the open blue door on the right just past the wood patio. Call or text 714-393-3838 for location help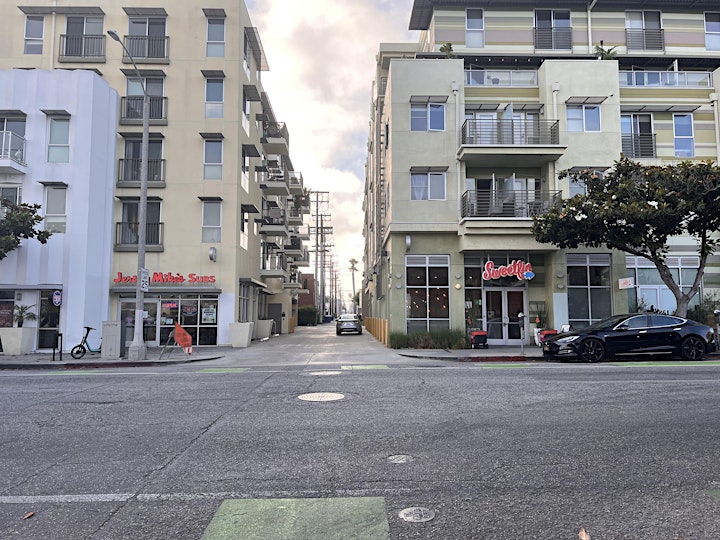 Related